English see below.
Het Van Abbemuseum bezit een van de belangrijkste en grootste collecties ter wereld van de Russische kunstenaar El Lissitzky (1890-1941), buiten Rusland.
El Lissitzky (1890-1941) was een Russische kunstenaar, schilder, graficus, architect, typograaf en fotograaf. Hij was een van de meest toonaangevende kunstenaars in de Russische avant-garde en zijn werk heeft grote invloed gehad op het constructivisme, Bauhaus en De Stijl. http://www.vanabbemuseum.nl
Bij een bezoek van buitenlandse journalisten aan de Dutch Design Week 2011 in Eindhoven  is een Russisch filmpje over het Van Abbemuseum gemaakt dat op de Russische televisie is vertoond (indien link nog beschikbaar is).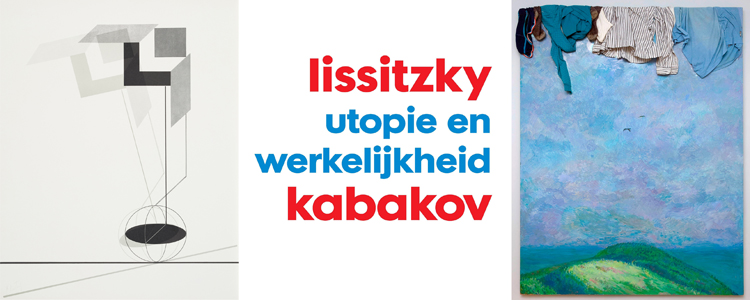 Lissitzky – Kabakov exhibition from December 1, 2012
Het Van Abbemuseum heeft de kunstenaars Ilja (1933) en Emilia (1945) Kabakov gevraagd om als gastconservatoren een tentoonstelling te maken van hun werk samen met dat van El Lissitzky (1890 – 1941). Voor Lissitzky – Kabakov hebben zij een uitgebreide selectie gemaakt uit hun eigen werk en dat van Lissitzky. Het is de eerste keer dat de oeuvres van deze beroemde Russische kunstenaars uit de twintigste eeuw samen worden gepresenteerd. Zo wordt een cirkel gesloten die begon met de revoluties in de eerste jaren van de twintigste eeuw en eindigde met de omwentelingen in 1989. De confrontatie van de vroege Sovjetkunst met die uit de latere Sovjettijd biedt mogelijkheden om de kunst en cultuur van de tussenliggende periode beter te begrijpen. Naast werken uit de collectie van de Kabakovs en het Van Abbemuseum ziet u bruiklenen van onder meer de Tretjakov Galerie in Moskou, het Guggenheim Museum in New York en Centre Pompidou in Parijs.
English: The Van Abbemuseum invited the artists Ilya (1933) and Emilia (1945) Kabakov to organise an exhibition of their work together with that of El Lissitzky (1890- 1941), as guest curators. For the Lissitzky – Kabakov exhibition they made an extensive selection from their own work and that of Lissitzky. It is the first duo presentation of these famous 20th-century Russian artists. Bringing together Lissitzky and the Kabakovs completes the circle which started with the revolutions in the early years of the twentieth century and finished with the upheavals of 1989. The confrontation between early Soviet art and that of the later Soviet era presents opportunities for a better understanding of the art and culture of the intervening period. In addition to works from the collection of the Kabakovs and the Van Abbemuseum, you will see loans from the Tretyakov Gallery in Moscow, the Guggenheim Museum in New York and Centre Pompidou in Paris.
VAN   ABBEMUSEUM
Bilderdijklaan 10, Eindhoven
The Netherlands
+31 (0)40 238 1000
http://www.vanabbemuseum.nl/OPENING   HOURS MUSEUM, CAFE and SHOP
Tu- Su 11:00 – 17:00
Every first Thursday of the month open until 21:00 hours and free admission   from 17:00 – 21:00OPENING HOURS LIBRARY
Tu – Fr 11:00 – 17:00Photos:
El Lissitzky, Design for a   Proun, 1923. Collection Sprengel Museum, Hannover, Photo Peter   Cox / design 75B / Ilya Kabakov, Landscape   with Mountains, 1989. Courtesy: Niccoló Sprovieri Gallery,   London, collection Ilya & Emilia Kabakov
For more   information on activities and exhibitions, please visit our website: http://www.vanabbemuseum.nl/You can now   also find the Van Abbemuseum on the
following online platforms:NLRF2013
The exhibition is part of NLRF2013, the Dutch – Russian year and is   planned to travel to the Hermitage in St. Petersburg and the Multimedia Art   Museum (MAMM) in Moscow in 2013
Als de link op de Russische site nog bestaat, zie ook Piet Hein Eek in een Russisch gesproken filmpje.
En Dutch Design schoons in deze twee:
http://www.1tv.ru/news/world/189824